Spimbey's kids play-furniture is becoming very popular both with children as well as their parents. Children always love an exciting playground. Now, it has turned into a new world for these young chidren when they found adventure and innovation.
Spimbey is a US-based company having a range of exciting products that are trying to change things with its great selection of various modular kid's play furniture.
Spimbey was born from the childhood memories of the company CEO Mark, who spent his childhood, partly in Spain and partly in the Netherlands. Like all other young children, Mark and his friend also discovered their excitement in certain local playgrounds and parks where they imagined their entire world.
They were engaged in the climbing frame and slide like any other kids and it was their adventure world during those days.
Mark just wanted to recreate his childhood experience for his son and he found that the outdoor play furniture was all large, expensive, and overbearing. So, he designed his own and then built what finally was the inspiration for Spimbey that was born in his backyard. Later, Mark realized the market potential for all those products that he created.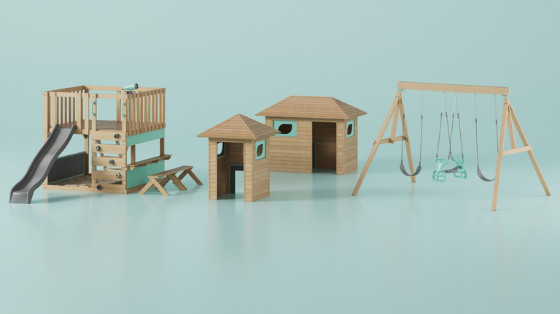 What makes Spimbey any different from other kid playsets for outdoors?
Spimbey innovation actually lies in the modular designs of each part. Spimbey range includes swings, playhouse, slides, seats, and also many more. Many of their parts can also be bought separately.
The primary aim of Spimbey is to make sure that all its products are produced from ethically sourced materials. Most of its wood comes from various forests and 100% responsible mills.
All the wall and roof panels usually come pre-assembled so that time can be cut down while erecting the structure. All these products are designed by a team of professionals in Switzerland, and the safety of the children is also one of the main features of Spimbey products.
Spimbey kid's play furniture is available in any preferred color choice with a lifetime warranty. The entire Spimbey modular parts will be drilled, pre-labeled, sanded, and ready to assemble using simple and clear instructions.
Order for these kids' play furniture can be placed at their website spimbey.com.
Most of the small accessories will be shipped via parcel carriers, however, several other products are available on the above website and are delivered via a certain freight carrier.
As the shipment will arrive at the freight terminal of the customer's destination, customers will be immediately contacted by the carrier agent to seek a delivery appointment. 
The carrier may offer some flexibility while seeking delivery appointment times, however, any lengthy delays in seeking appointments may attract storage fees to be charged to the customer.
All kid's play furniture of Spimbey's is backed by warranty, which applies to only the original residential customer who is going to purchase items from Spimba Inc.
All customers shall get 45 days for reporting damaged/missing parts from the actual date of delivery.
All warranty claims must include the purchase proof with the date of purchase. The warranty is going to be non-transferable and will not extend to any subsequent product owners. Also, this warranty will be void if the product will ever be used in a public, commercial, institutional, multi-family setting.